Privacy Policy
K9aggression.com respects your privacy.
Your privacy is very important to us! Any personal information you provide to us including and similar to your name, address, telephone number and e-mail address will not be released, sold, or rented to any entities or individuals outside of K9aggression.com.
Who we are
Our website address is: http://k9aggression.com.
Website Visitors
Like most website operators, we collect non-personally identifying data about how our site is used, such as the browser types, referring site, IP address, time and day of visits, pages visited, etc. From time to time, we may make this aggregate data available by publishing a report on how our site is used and traffic.
We use Google Analytics to track traffic and site usage. We also use server site application to track and log visitor that will tell us what IP address was used to visit the site. We are able to tell what general location you are in such as your city by your IP and the network you used. Your internet provider may be required to disclose the information they have based on your IP if required by law.
Google Analytics mainly uses first-party cookies to report on visitor (aka. user) interactions on Google Analytics customers' websites. Users may disable cookies or delete any individual cookie. Learn more
In addition, Google Analytics supports an optional browser add-on that – once installed and enabled – disables measurement by Google Analytics for any site a user visits. Note that this add-on only disables Google Analytics measurement.
Where a site or app uses Google Analytics for Apps or the Google Analytics for Firebase SDKs, Google Analytics collects an app-instance identifier — a randomly generated number that identifies a unique installation of an App. Whenever a user resets their Advertising Identifier (Advertising ID on Android, and ID for Advertisers on iOS), the app-instance identifier is also reset.
Where sites or apps have implemented Google Analytics with other Google Advertising products, like Google Ads, additional advertising identifiers may be collected. Users can opt-out of this feature and manage their settings for this cookie using the Ads Settings. Learn more
Google Analytics also collects Internet Protocol (IP) addresses to provide and protect the security of the service, and to give website owners a sense of which country, state, or city in the world their users come from (also known as "IP geolocation"). Google Analytics provides a method to mask IPs that are collected (detailed below) but note that website owners have access to their users' IP addresses even if the website owners do not use Google Analytics.
What personal data we collect and why we collect it
When visitors leave comments on the site we collect the data shown in the comments form, and also the visitor's IP address and browser user agent string to help spam detection.
An anonymized string created from your email address (also called a hash) may be provided to the Gravatar service to see if you are using it. The Gravatar service privacy policy is available here: https://automattic.com/privacy/. After approval of your comment, your profile picture is visible to the public in the context of your comment.
Comments
When visitors leave comments on the site we collect the data shown in the comments form, and also the visitor's IP address and browser user agent string to help spam detection.
An anonymized string created from your email address (also called a hash) may be provided to the Gravatar service to see if you are using it. The Gravatar service privacy policy is available here: https://automattic.com/privacy/. After approval of your comment, your profile picture is visible to the public in the context of your comment.
Purchasing from K9aggression.com
When ordering an ebook or product we collect your name, address and email address and other relevant contact information using SSL (secure socket layer) technology to keep your information secure. SSL is a protocol for enabling data encryption to protect communication between web browsers and servers.
We use your information to determine if and what sales tax needs to be collected and to deliver your purchased product. Your email address will be sent to PayPal, where your payment is securely processed on their secure servers. All passwords are encrypted which means we cannot see your password. We do not take any credit card details on our K9aggression.com (see below).
This information is kept for the purpose of processing your order and for providing us with the ability to generate aggregate reports to help us improve our service and offerings. All personally identifiable information is kept private and is only accessible to administrators on an as-needed basis.
While you visit our site, we'll track:
Products you've viewed: we'll use this to, for example, show you products you've recently viewed
Location, IP address and browser type: we'll use this for purposes like estimating taxes and shipping
Shipping address: we'll ask you to enter this so we can, for instance, estimate shipping before you place an order, and send you the order!
We'll also use cookies to keep track of cart contents while you're browsing our site. See below for more information on cookies.
When you purchase from us, we'll ask you to provide information including your name, billing address, shipping address, email address, phone number, and optional account information like username and password. We'll use this information for purposes, such as, to:
Send you information about your account and order
Respond to your requests, including refunds and complaints
Process payments and prevent fraud
Set up your account for our store
Comply with any legal obligations we have, such as calculating taxes
Improve our store offerings
Send you marketing messages, if you choose to receive them
If you create an account, we will store your name, address, email and phone number, which will be used to populate the checkout for future orders.
We generally store information about you for as long as we need the information for the purposes for which we collect and use it, and we are not legally required to continue to keep it. For example, we will store order information for at least six years for tax and accounting purposes. This includes your name, email address and billing and shipping addresses.
We will also store comments or reviews, if you choose to leave them.
Who on our team has access to your purchase information
Members of our team have access to the information you provide us. For example, both Administrators and Shop Managers can access:
Order information like what was purchased, when it was purchased and where it should be sent, and
Customer information like your name, email address, and billing and shipping information.
Our team members have access to this information to help fulfill orders, process refunds and support you.
What we share with others
We share information with third parties who help us provide our orders and store services to you; for example —
Payments
We accept payments through PayPal. When processing payments, some of your data will be passed to PayPal, including information required to process or support the payment, such as the purchase total and billing information.
Please see the PayPal Privacy Policy for more details.
Contact Forms
When filling in a contact form we will use your email address to reply if we deem it required by the content of the message sent to us. Using our contact form does not subscribe you to our mailing list. This information is stored on our servers as well as emailed to our administration staff who are required to keep all information private unless we have explicit permission to share it. Please note that we keep contact form submissions for a certain period for customer service purposes, but we do not use the information submitted through them for marketing purposes.
Mailing List
When you subscribe to our mailing list, your email address is used for K9aggression.com to contact you from time to time. We use a third-party secure service that allows us to create, send and manage newsletter emails You may opt-out of this list at any time by clicking the unsubscribe link in the news letter you have received or by contacting K9aggression.com through the contact form and requesting to opt-put with the correct email address to remove. Under no circumstances do we sell or rent or share any list information with any other party unless required by law.
Credit card details
K9aggression.com will never ask for Credit Card details and request that you do not enter it on any of the forms on K9aggression.com. Any credit card details used for purchasing our e-books is handled securely by PayPal, the trusted leader in e-commerce transactions.
Cookies
A "cookie" is a small data text file that is placed in your browser and allows K9aggression.com to recognize you each time you visit this site (customization etc). Cookies themselves do not contain any personal information, and K9aggression.com does not use cookies to collect personal information. Cookies may also be used by 3rd party content providers such as news feeds.
If you leave a comment on our site you may opt-in to saving your name, email address and website in cookies. These are for your convenience so that you do not have to fill in your details again when you leave another comment. These cookies will last for one year.
If you have an account and you log in to this site, we will set a temporary cookie to determine if your browser accepts cookies. This cookie contains no personal data and is discarded when you close your browser.
When you log in, we will also set up several cookies to save your login information and your screen display choices. Login cookies last for two days, and screen options cookies last for a year. If you select "Remember Me", your login will persist for two weeks. If you log out of your account, the login cookies will be removed.
If you edit or publish an article, an additional cookie will be saved in your browser. This cookie includes no personal data and simply indicates the post ID of the article you just edited. It expires after 1 day.
K9aggression.com uses Google Analytics to track traffic to the site and to improve our content to our visitors. Learn how Google uses data when you use our partners' sites or apps.
K9aggression.com implements the Google Display Advertiser feature which collects anonymous demographic and interest data about traffic to K9aggression.com through Google advertising cookies and anonymous identifiers. We use these identifiers to better understand our general audience in order to choose advertising that is most relevant and useful to our audience. We also use this information to create content that we believe our audience will find most relevant or useful. It is against K9aggression.com policy to merge any personally-identifiable information with non-personally identifiable information collected through any Google advertising product or feature should this be possible.
You can opt out of the Google Analytics Advertising Features K9aggression.com uses, including through Ads Settings, Ad Settings for mobile apps or any other available means (for example, the NAI's consumer opt out) by visiting Google Analytics' currently available opt-outs for the web.
K9aggression.com is also a participant in the Amazon Services LLC Associates Program, an affiliate advertising program designed to provide a means for sites to earn advertising fees by linking to amazon.com at no additional cost to you. This helps us keep this site hosted without using banner advertising should you decide to buy. However, we only recommend specific books and products that we believe are helpful and useful. Please do not spend any money on anything that you don't feel will help you.
Embedded content from other websites
Suggested text: Articles on this site may include embedded content (e.g. videos, images, articles, etc.). Embedded content from other websites behaves in the exact same way as if the visitor has visited the other website.
These websites may collect data about you, use cookies, embed additional third-party tracking, and monitor your interaction with that embedded content, including tracking your interaction with the embedded content if you have an account and are logged in to that website.
External Sites
K9aggression.com is not responsible for the content of external internet sites or any data that is provided to that third party. You are advised to read the privacy policy of external sites before disclosing any personal information. This privacy policy only extends to to this site even when you click on link on K9aggerssion.com.
How long we retain your data
If you leave a comment, the comment and its metadata are retained indefinitely. This is so we can recognize and approve any follow-up comments automatically instead of holding them in a moderation queue.
For users that register on our website (if any), we also store the personal information they provide in their user profile. All users can see, edit, or delete their personal information at any time (except they cannot change their username). Website administrators can also see and edit that information.
Rights in relation to your information
If you have an account on this site, or have left comments, you can request to receive an exported file of the personal data we hold about you, including any data you have provided to us. You can also request that we erase any personal data we hold about you. This does not include any data we are obliged to keep for administrative, legal, or security purposes.
Remember The Risks Whenever You Use The Internet
While we do our best to protect your personal information, we cannot guarantee the security of any information that you transmit to K9aggression.com and you are solely responsible for maintaining the secrecy of any passwords or other account information. In addition other Internet sites or services that may be accessible through K9aggression.com have separate data and privacy practices independent of us, and therefore we disclaim any responsibility or liability for their policies or actions.
Please contact those vendors and others directly if you have any questions about their privacy policies.
Our website address is: https://k9aggression.com. You can contact us via our contact page. Alternatively you can also contact one of our volunteers through our Facebook page.
---
ADVERTISEMENT
---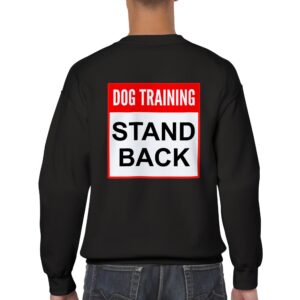 Keep people away with our Stand back shirts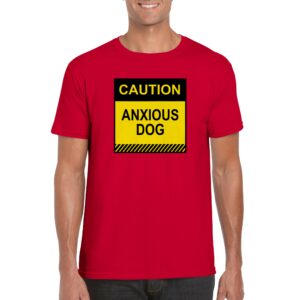 Anxious Dog Shirts only available in our shop
---
The Dog Aggression System Every Dog Owner Needs E-book
---
ADVERTISEMENT