TERMS AND CONDITIONS
Terms and Conditions of Use of K9aggression.com
1  Acceptance The Use of K9aggression.com Terms and Conditions
Your access to and use of K9aggression.com is subject exclusively to these Terms and Conditions. You will not use the Website for any purpose that is unlawful or prohibited by these Terms and Conditions. By using the Website you are fully accepting the terms, conditions and disclaimers contained in this notice. If you do not accept these Terms and Conditions you must immediately stop using the Website.
2  Credit card details
K9aggression.com will never ask for Credit Card details and request that you do not enter it on any of the forms on K9aggression.com. All sales are handled securely by PayPal. Once any payment has been processed, we are only sent a notification that is related to your order.
3  Ebook printing
Our ebooks are published under Digital Rights Management (DRM) to safeguard against copyright infringement as well as to protect consumers from downloading pirated versions infected with viruses. When you buy an ebook, the ebook is licensed to you and only you. You own the rights to view the book, but you do not own the ebook itself. This is standard practice in ebook publishing. Unfortunately this means you can't print the ebook. If you require a print version of the book, you will need to purchase the print version. Sharing ebooks with other people is considered piracy and is illegal.
4  Advice
Dealing with aggressive dogs is risky. Always consult a qualified professional before beginning any treatment program to deal with dog aggression. Never disregard professional advice from a qualified dog behavior specialist or delay in seeking it because of something you have read on this site or in any of our publications. All content and information provided on this website is as is and provided for informational and education purposes only and any use of thereof is solely at your own risk. The author shall not be liable for any injury, cost, or damage arising directly or indirectly from the use of this website. It is solely your responsibility to evaluate the accuracy, completeness and usefulness of all opinions, advice, services, merchandise, and other information provided either directly or indirectly through this book or on the Internet generally.
The information herein contained is not intended to be a substitute for professional advice, diagnosis, or treatment in any manner. Always seek the advice of a qualified dog behavior specialist with any questions you have about your dog's behavior. By reading the information and content in this book, the reader and/or viewer does hereby acknowledge that it is your sole responsibility to review this.
5  Customer Responsibility
Before ordering from us, it is your responsibility to check and determine full ability to receive the products as well as ensuring your order contains accurate information as to product choice, and product options regarding color, size, design, etc. Correct address and post code/zip code, your up-to-date telephone number and e-mail address are absolutely necessary to ensure successful delivery of your products.Once your payment has been processed, the order is automatically placed and you will not be able to edit or cancel your order. However, if you want to change some parameters such as your address, please contact us as soon as possible. We can't guarantee we can make modifications to your order, but we will do our best on a case by case basis.
Downloadable products such as ebooks are zipped. Customers are responsible for unzipping or decompressing these files in order to use the pdfs. Note that many mobility devices may not include options for decompressing unzipping files. If you are an iPad user, you can check the frequently asked questions page on how you can decompress or unzip your file.
Please refer to the book for any disclaimers relevant to the information in the book.
6  Who pays the customs duties & taxes on physical products?
Shipments outside of the USA may incur customs fees depending on the destination country. The fee may vary depending on your order value, country limits, and other factors. Any fees are paid to appropriate customs agency by the end customer.
7  Delivery Dates
All delivery estimates of physical products given at the time of placing and confirming orders are subject to change. In any case, we will do our best to contact you and advise you of all changes. Unfortunately we can not guarantee delivery dates and accept no responsibility, apart from advising you of any known delay, for products that are delivered after the estimated delivery date.
8  Ebook delivery
Downloads are automatic once your payment has been processed by PayPal. Clicking the link through your order received page, or via your email will download the zipped pdf file automatically to your downloads folder. The file will need to be unzipped using a decompression application. Due to an variety of technical considerations it is impossible for us to guarantee you will receive your e-book confirmation with the download link immediately. Please ensure you have provided a correct email address and that you have whitelisted our domain name so that you an receive emails from us.  If you have not received an email from us within moments of your payment processing, please contact us with your name and order number and we will do our best to help you. Our customer service is run by volunteers so please allow some time to respond.
9  Lost Packages in Transit
If your package is lost in transit and shows that it has not been delivered, we will re-print it and re-send it at no cost to you. For packages lost in transit, all claims must be submitted no more than 30 days after the estimated delivery date.
10  What the tracking information for the package states that it has been delivered, but I didn't receive it?
It is the Customer's responsibility to file any claim with a carrier for a lost shipment if carrier tracking indicates that the product was delivered. Unfortunately K9aggression.com would not take responsibility and we don't issue refunds or returns in this case.
11  What if the product is damaged in the mail?
We ask for photo verification of the damaged goods. We will send a replacement at no cost to you subject to our investigation and discretion. Please contact us via our contact form.
12  Wrong Address Returns
If you entered a wrong address, then you are held responsible. However, if you just placed the order, contact us immediately. We can't guarantee that we can make the change before your order is shipped, but we might be able to. Usually the package is sent back to our warehouse. If so we'll contact you for an updated address. However, the packages sometimes are not returned. In this case, you would have to process a new order to replace the original.
13  Returns
Please contact us to let us know about a physical product return. Any returns or problems that occur because of an error on our part will be handled at our expense. Any claims for misprinted/damaged/defective items must be submitted within 30 days after the product is received. Cases where you would like to exchange or return a product without any defect or due to a wrong size being ordered, you will need to fill out a return form (please contact us) and be responsible for the shipping cost a second time. Once the item is returned, we will place the new order.
E-books cannot be returned or refunded.
14  Where do I send my return?
Our warehouse address is 19749 Dearborn St, Chatsworth, CA 91311.
15  Description of Products
We use our best efforts to provide you with the best images and descriptions, but unfortunately cannot guarantee that colours and details in website images are 100% accurate representations of the product, and sizes might in some cases be approximate.
16  Change of Use
K9aggression.com reserves the right to:
16.1  change or remove (temporarily or permanently) products, the Website or any part of it without notice and you confirm that K9aggression.com shall not be liable to you for any such change or removal and.
16.2  change these Terms and Conditions at any time, and your continued use of the Website following any changes shall be deemed to be your acceptance of such change.
17  Links to Third Party Websites
K9aggression.com Website may include links to third party websites that are controlled and maintained by others. Any link to other websites does not necessarily imply an endorsement of such websites and you acknowledge and agree that we are not responsible for the content or availability of any such sites.  Hyper-links to such sites are provided as a service to the reader and are not sponsored by or affiliated with  K9aggression.com or any of its operators.  K9aggression.com is not responsible for the content on those sites. Hyper-linked are to be accessed at the user's own risk and the author makes no representations or warranties about the content, completeness or accuracy of these hyperlinked sites, or the sites that are hyper-linked to this site.  K9aggression.com provides hyperlinks as a convenience.
K9aggression.com is a participant in the Amazon Services LLC Associates Program, an affiliate advertising program designed to provide a means for sites to earn advertising fees by advertising and linking to amazon.com.  However, we only include links that we believe you will find useful, either to see what kinds of tools or products we are referring to, or products that you would find useful.  There is no pressure to buy in any shape or form.
18  Cookies 
A "cookie" is a small data text file that is placed in your browser and allows K9aggression.com to recognize you each time you visit this site (customisation etc). Cookies themselves do not contain any personal information, and K9aggression.com does not use cookies to collect personal information. Cookies may also be used by 3rd party content providers such as newsfeeds.  K9aggression.com uses Google Analytics to track traffic to the site and to improve our content to our visitors. Learn how Google uses data when you use our partners' sites or apps.
19  Copyright
19.1  All copyright, trade marks and all other intellectual property rights in the Website and its content (including without limitation the Website design, text, graphics and all software and source codes connected with the Website) are owned by or licensed to K9aggression.com or otherwise used by K9aggression.com as permitted by law.
19.2  In accessing the Website you agree that you will access the content solely for your personal, non-commercial use. None of the content may be downloaded, copied, reproduced, transmitted, stored, sold or distributed without the prior written consent of the copyright holder. This excludes the downloading, copying and/or printing of pages of the Website for personal, non-commercial home use only.
19.3 You can share links to our site via email and social media, but you cannot republish any of our text-based content over 75 words.
19.4 You cannot use our content for the sale of any materials, for advertising or promotions.
19.5 Printing ebooks is a copyright violation. If you want a printed copy of the book, please purchase one from Amazon.
19.5 Sharing ebooks with other people is considered piracy and is illegal.
20  Disclaimers and Limitation of Liability
20.1  The Website is provided on an AS IS and AS AVAILABLE basis without any representation or endorsement made and without warranty of any kind whether express or implied, including but not limited to the implied warranties of satisfactory quality, fitness for a particular purpose, non-infringement, compatibility, security and accuracy.
20.2  To the extent permitted by law, K9aggression.com will not be liable for any indirect or consequential loss or damage whatever (including without limitation loss of business, opportunity, data, profits) arising out of or in connection with the use of the Website.
20.3  K9aggression.com makes no warranty that the functionality of the Website will be uninterrupted or error free, that defects will be corrected or that the Website or the server that makes it available are free of viruses or anything else which may be harmful or destructive.
20.4  Nothing in these Terms and Conditions shall be construed so as to exclude or limit the liability of K9aggression.com for death or personal injury as a result of the negligence of K9aggression.com or that of its employees or agents.
21  Indemnity
You agree to indemnify and hold K9aggression.com and its employees and agents harmless from and against all liabilities, legal fees, damages, losses, costs and other expenses in relation to any claims or actions brought against K9aggression.com arising out of any breach by you of these Terms and Conditions or other liabilities arising out of your use of this Website.
22  Severance
If any of these Terms and Conditions should be determined to be invalid, illegal or unenforceable for any reason by any court of competent jurisdiction then such Term or Condition shall be severed and the remaining Terms and Conditions shall survive and remain in full force and effect and continue to be binding and enforceable.
23  Governing Law
if a dispute arises between you and K9aggression.com, we strongly encourage you to first contact us directly to seek a resolution. These Legal Terms and Conditions and your use of this Site shall be governed by and construed in accordance with the laws in force in the Province of Ontario and the federal laws of Canada, without reference to any choice of law or conflict of law principles. The United Nations Convention on Contracts for the International Sale of Goods does not apply to these Legal Terms and Conditions or any communication with or transaction through this Site.
---
ADVERTISEMENT
---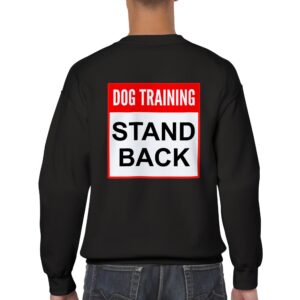 Keep people away with our Stand back shirts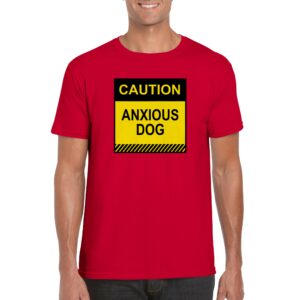 Anxious Dog Shirts only available in our shop
---
The Dog Aggression System Every Dog Owner Needs E-book
---
ADVERTISEMENT